Since 2013, Active Learning Elementary School in New York has shifted completely to a vegetarian school lunch program.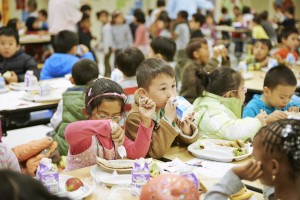 According to principal Groff, the shift aims at providing a healthier high nutritional school lunch.
Until it started in 2012, like most public schools, the lunches provided were mostly comprised of pizzas, hot dogs, sandwiches and tacos.
As meat alternatives, such trial menus as hummus, tofu, falafel dishes were provided to parents invited to Family Dinner Night. The vegetarian school lunch program started initially on a one day per week basis, and thence increased to two and then three days per week.

Of course snacks, sodas, juices, as well as meat-containing lunch boxes are allowed. Among the 450 students, about 10 percent chose to bring along meat-containing lunch boxes when the vegetarian school lunch program first started. It has now decreased to 5 percent. There were oppositions to the program, as well as doubts regarding the food quality, but with the organization of Family Dinner Night, acceptance gradually increased.
Attendance for the past 4 years has been increasing to a 97 percent compared to the municipal average of 95 percent. Academic performance has also been increasing for the past 3 years, maintaining a top class in New York State while achieving a national ranking of 11th.
Though it is uncertain that there is a causal effect, recent application for entrance has been on the increase, with 1000 applications for 150 seats.
Source:HEAPS
Posted by Tsubomi. J